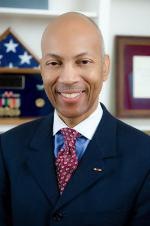 Attorney Reginald E. McKamie has achieved the AV®Rating in the "Martindale-Hubbell Law Directory," one of America's most exclusive directory of lawyers. To achieve this prestigious distinction, Attorney McKamie has been designated by his colleagues to be preeminent in his field. Captain McKamie served as a member of the U. S. Navigation Safety Advisory Council (NAVSAC) has been appointed to the Council by two U. S. Secretaries of Transportation. Captain McKamie also served as a Board member of the National Academy of Science Transportation Research Board in Washington, DC.

Attorney McKamie attained Proctor status, the highest membership category for practicing lawyers, while a member of The Maritime Law Association of the United States. He received a B.S. from the U.S. Merchant Marine Academy; Kings Point, New York, an M.B.A. from the University of Southern California, and a J.D. from the University of Houston where he was a member of Phi Delta Phi Legal Fraternity. Captain McKamie served his nation as a member of the U.S. Navy nd attained the rank of Captain (0-6). He also received the Meritorious Service Medal.

Attorney McKamie has decades of experience in many areas of law and specializes in Personal Injury, where he focuses primarily on maritime matters such as the Jones Act cases. In 1991, as lead counsel for the Port of Houston, a case involving a major maritime casualty and oil spill in Galveston Bay, he successfully argued in the United States District Court for the Southern District of Texas, in Golnay Barqe Company, et al., v. M/T Shinoussa, et al., that the Port of Houston, as a governmental entity, was conveyed a proprietary interest by the legislature in the waters where the oil spill occurred and, therefore, had a claim for economic damages to the port. This case was considered by the Court, as a case of first impression for the Fifth Circuit and is reported in American Maritime Cases. Captain McKamie has also successfully argued cases in Texas Appellate Courts and the Supreme Court of Texas.

While a graduate student at the University of Southern California, Mr. McKamie worked as an Assistant Marine Underwriter with the Insurance Company of North America. Following graduation from the University of Southern California, he accepted a position as an Able Bodied Seaman aboard an ocean going vessel. While pursuing a seagoing career, he also worked with the Certified Public Accounting firm of Cook & Robinson, CPA, in Los Angeles, CA. Mr. McKamie has earned his license as an Unlimited Master Mariner and his license as a certified Public Accountant.

While a law student at the University of Houston he gained valuable business experience working for Exxon Shipping Company where he held the positions of Assistant Fleet Manning Supervisor, a position that dealt with personnel and labor issues and Senior Financial Specialist, a position that focused primarily on the analysis of the financial and operating results of Exxon Shipping Company.

Captain McKamie returned to sea after graduation from law school and served as Captain of the S/S Exxon North Slope, S/S Exxon Philadelphia and the S/S Exxon Benicia.

He is a member of the Texas Bar, practicing in the Southern District of Texas, Washington D.C. and the Fifth Circuit. He is also a member of the Texas Society of Certified Public Accountants.